Onboarding Email for Clubhouse
Task:
 rewrite the email so its wittier and more engaging, but still business appropriate.
​​​​​​​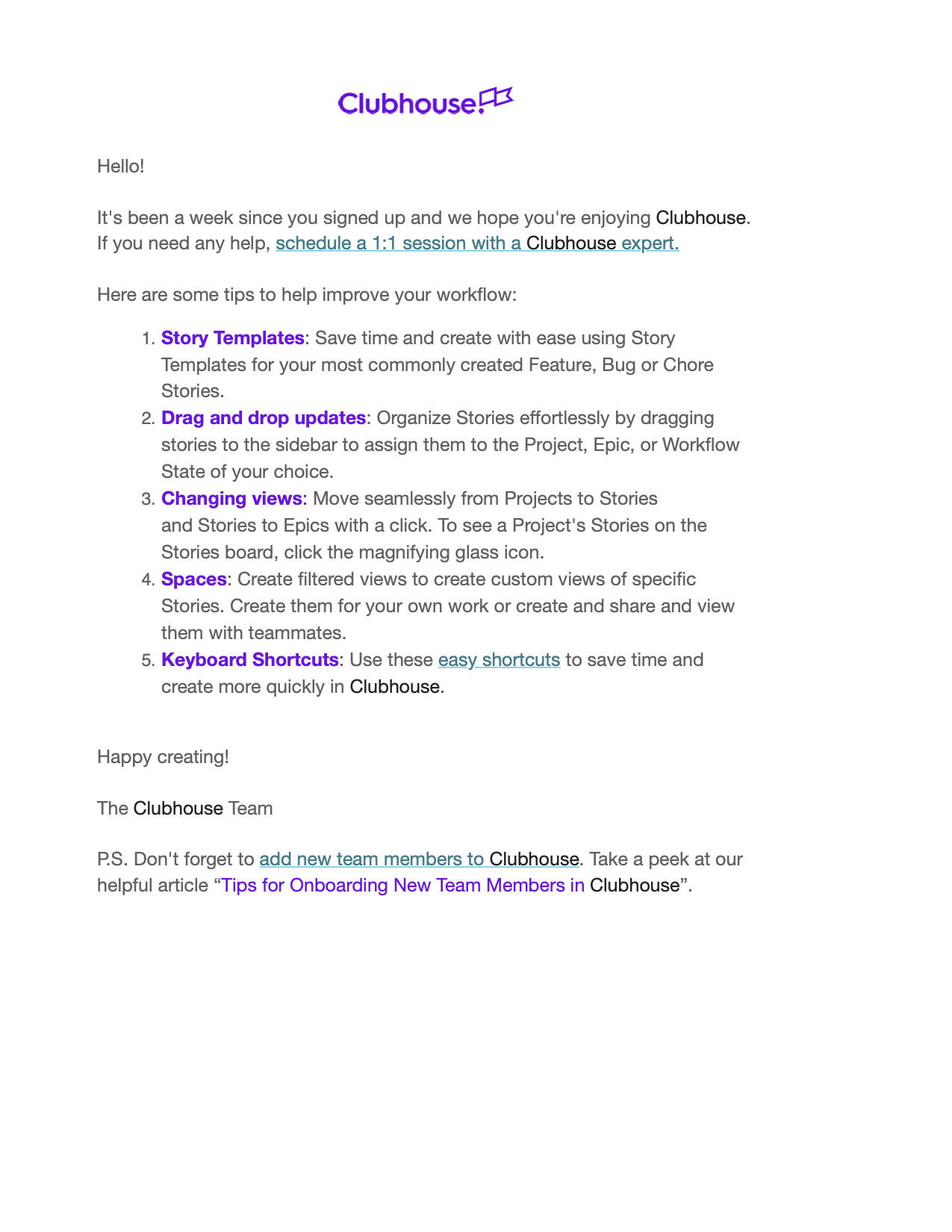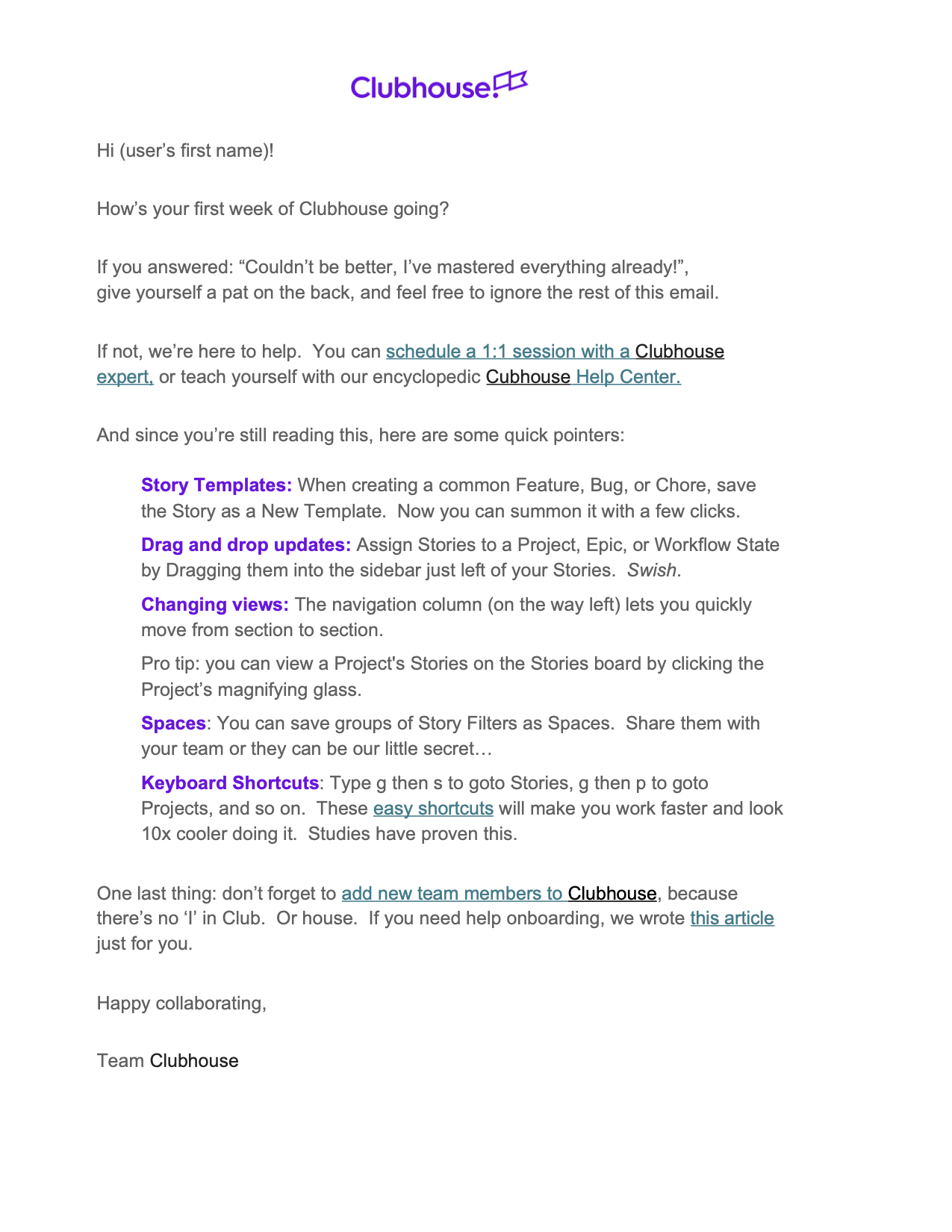 A traveler is in an airport waiting for the last leg of a flight home when their flight gets abruptly canceled due to bad weather.  
Write a message from the airline app notifying them of the cancellation and what they need to do next.
Headline: 45 characters, Body: 175 characters max 
Button(s): 25 characters max
Your flight has been canceled due to weather.
We are deeply apologetic for this delay.  To select another flight and arrange complimentary lodging, please call our emergency agent at (800) 448-3582.
A user is a working parent, and a big sports fan, in the midst of their favorite sports season who can no longer attend games.  
Write a promotional screen for an app that lets a user choose teams, sends game reminders, real-time score updates and highlight videos.
Headline: 40 characters max, Body: 175 characters max
Button(s): 25 characters max
Gametime action, ANY-time convenience.
Quick, in depth coverage of your favorite teams.
Highlights, real-time updates, and game reminders - all in one place.
The water-cooler will never be the same.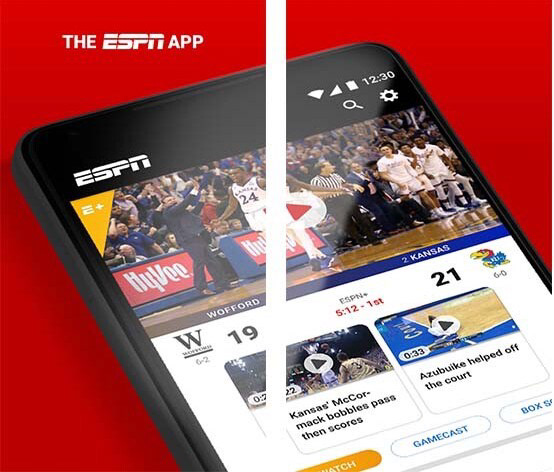 A user is in their favorite supermarket. They open the supermarket's app on their phone to see what's on sale and are greeted by a promotion.  Write a promotional home screen for a subscription service that delivers groceries to the user once-a-month for a flat fee.
Headline: 45 characters max, Body: 175 characters max
Button(s): 25 characters max 
Good Eggs grocery delivery
You make the list, we'll deal with traffic.
Dozens of local partners.  
Plans starting at $15 / month
Sign up today for 10% off the year. 
(participating stores)   (sign up)
The user is trying to view a website to help them buy a car.  But, the content can't load without the user's location.  They need to enter their ZIP code and first name.  A
sk them where they live and who they are without sounding like you're unnecessarily mining their data.
Headline: 25 characters, Body: 45 characters, Button: 15 characters
This makes your search friendlier and easier.
Excerpt from Katerina Tana Collection Website

LOOM is comprised of fabrics woven from 100% natural fibers. The vast majority of the Collection is woven of 100% Belgian linen.  
The flax used to produce our indoor linen is grown with great respect for the environment. Cultivating it requires no irrigation, and the flax is grown in compliance with recommended crop rotation cycles.  
Very little energy is required for growing, spinning and weaving the fabric.  
All processes are powered by natural gas.  Additionally, flax is a zero waste material.  What isn't used for linen is used for flax seed oil, linseed oil, insulation, and packaging.  
Waste water from bleaching and dying is processed by a state of the art, biological water recycling plant on premises.  For bleaching, peroxide is used rather than chlorine.  For dying, non-toxic formulae are used.  
All of the prints in the LOOM Collection are printed by artisans in small runs using a hand screen method. Two thirds of the designs are printed locally, within twenty miles of our Venice, California headquarters.  The inks and pigments used are biodegradable.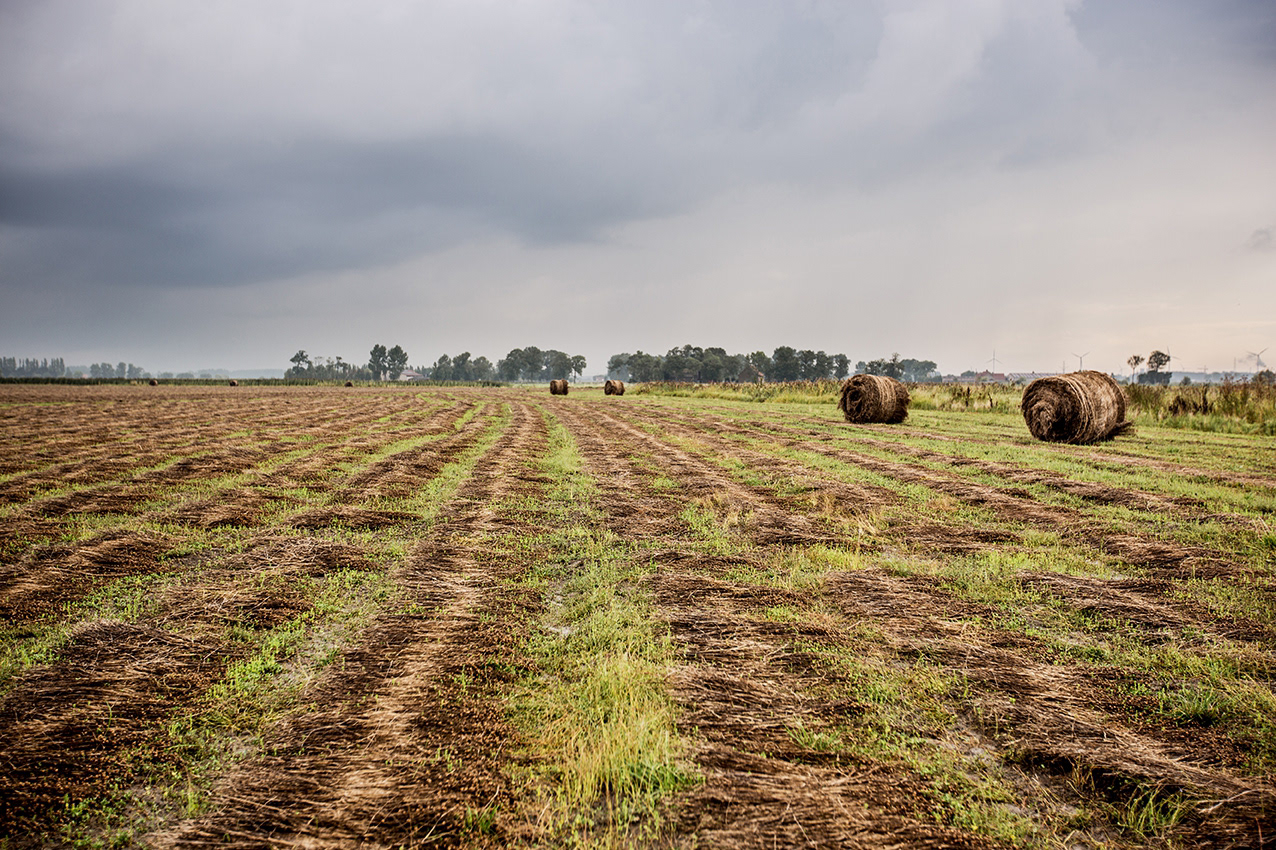 Product Descriptions for Tortoise General Store
Around the beginning of the 20th century, Shouzaemon Nishio "invented" a mat to wipe shoes made of hemp palm bristles firmly bunched to thick wire.  Little did he know, a similar product already existed in the U.K.  This prevented him from obtaining a patent.   Not long after this, he saw his mother cleaning the house with a bent piece of one of his mats.  Soon after, he designed and marketed the scrubber based off of his mother's makeshift tool.  In 1907, he founded the company Kamenoko (scrubber) Tawashi (young turtle).  The design has changed very little after over a century and remains the quintessential Japanese cleaning tool.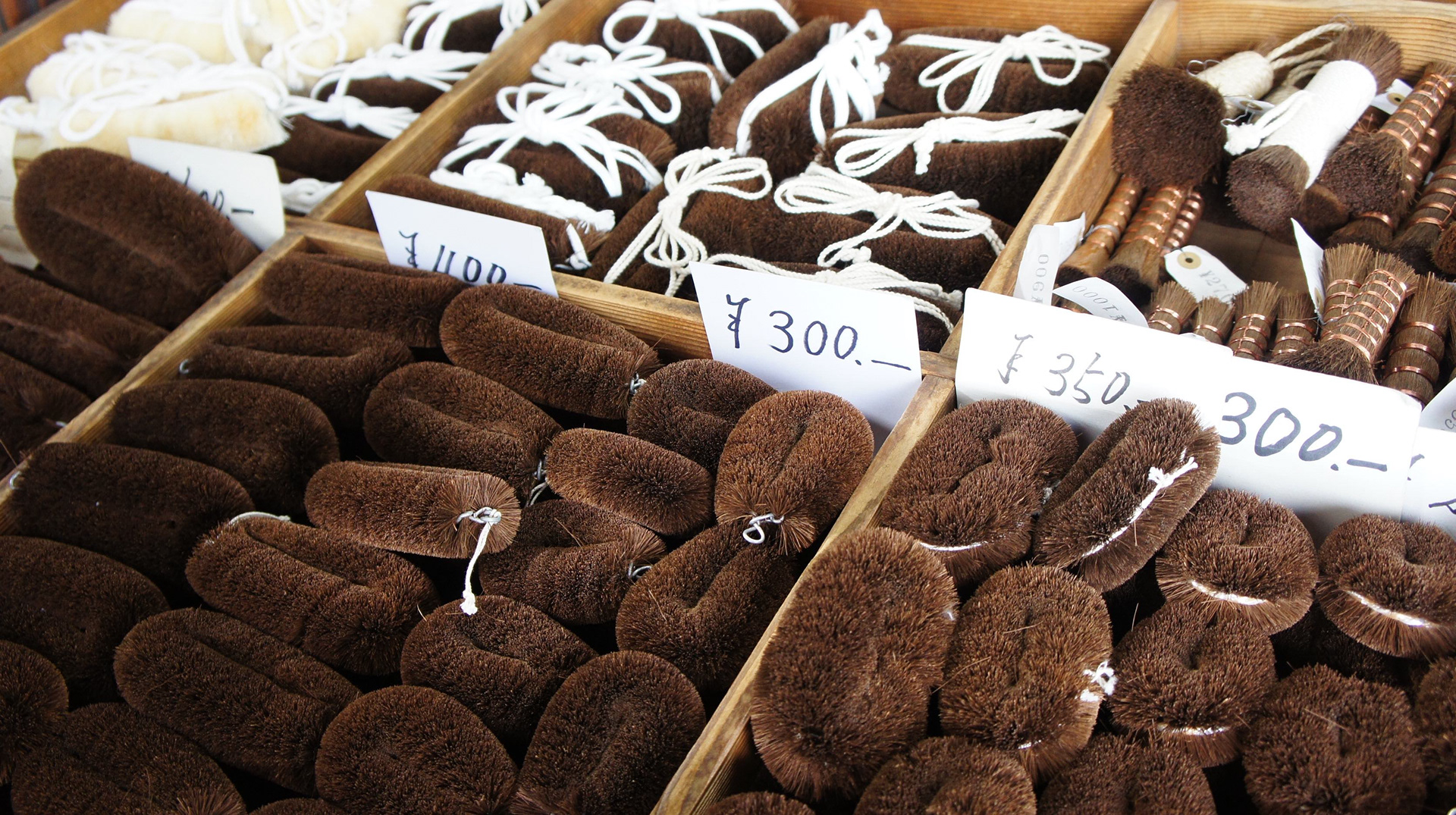 Kabazaiku Cherry Bark Container
These containers are made with mountain cherry bark using a laborious technique said to have been developed by lower-ranking samurai.  The bark is readily available in the mountains surrounding Kakunodate.  The Designated Master Craftsman, Kintaro Koyanagi (from Kakunodate) attained the highest reaches of this craft through over 65 years of experience.  He is responsible for bringing its beauty to public attention.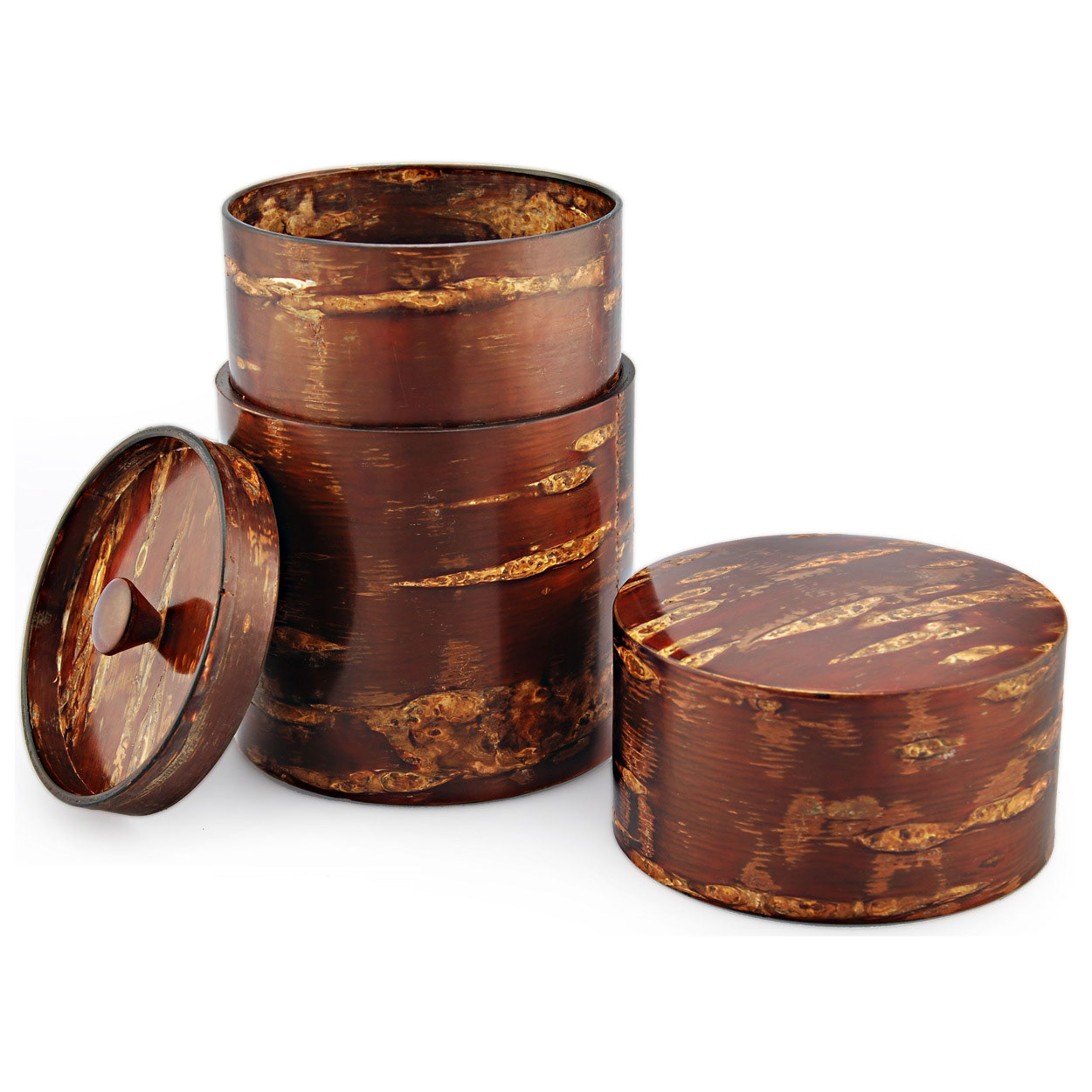 Nanohana Vegetable Oil Candles
Shortly after the pink petals of Japan's famous cherry blossoms fade away, wavy yellow carpets of nanohana (rapeseed flowers) take over the rural scenery.  The plants fill the air with their intoxicating, pasty scent. The Japanese have been eating the stems and flowers of this plant since 330 BC. In the Edo Period (1600-1868,) they devised techniques for extracting the oil from its seeds.  This oil gives these candles their deep, yellow hue and subtle scent.
Product Descriptions for Golda

GOLDA "YAME CHA" Green Tea
This tea comes from the Kuroki town in the city of Yame.  Yame is known for producing some of Japan's finest, competition-grade green tea.  The plantation is located 450 meters above seat level at the highest point of Fukuoka prefecture.  The guiding philosophy behind the farm is that the health of the soil is directly impacts the quality and flavor of the tea.  
In 2006, this was the first Japanese Tea to pass the European Commission's stringent maximum pesticide residue level of .01 and .05 parts per million.
The climate of Kuroki, rich soil, and hand processing results in a well-balanced cup with a remarkably clean taste.  Look for flavors of umami, melon, and flowers.
Common Uses & Recommendations: Green tea of this exceptional quality produces an intensely vibrant color in the cup. Additionally, the tea tastes great in food! Try incorporating the dry tea into your favorite Furikake (rice-seasoning blend,) or seasoning the used leaves with a soy sauce and folding into rice.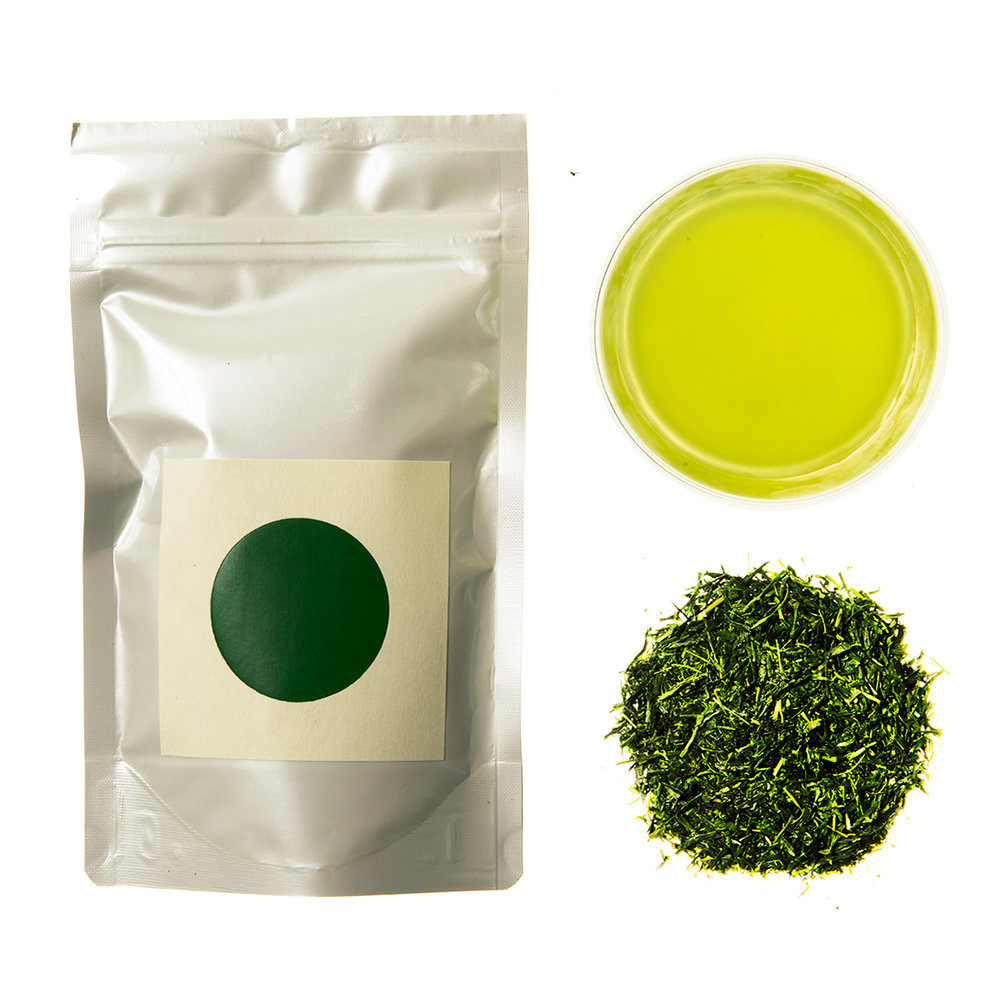 GOLDA Hiba Wood Atmosphere Mist
To make th

is mist, we simply mix distilled water with our premium Aomori Hiba essential oil. 

The spray has a unique citrusy, cedar-like fragrance with purifying, uplifting, and stimulating effects.  

Hiba is one of the most revered trees in Japan. They take up to 300 years to grow, and produce durable, rot-resistant wood. Studies have shown that Hinokitiol, only found in Aomori-bred Hiba trees (not to be confused with Hinoki), has potent antimicrobial, germicidal, insect-repellent, and deodorizing properties. Hiba essential oil is extracted from the wood waste of mature trees through vapor distillation. The trees are not harmed in any way. 
 Avoid use during pregnancy.
Ingredients: 

Aomori Hiba Oil and Distilled Water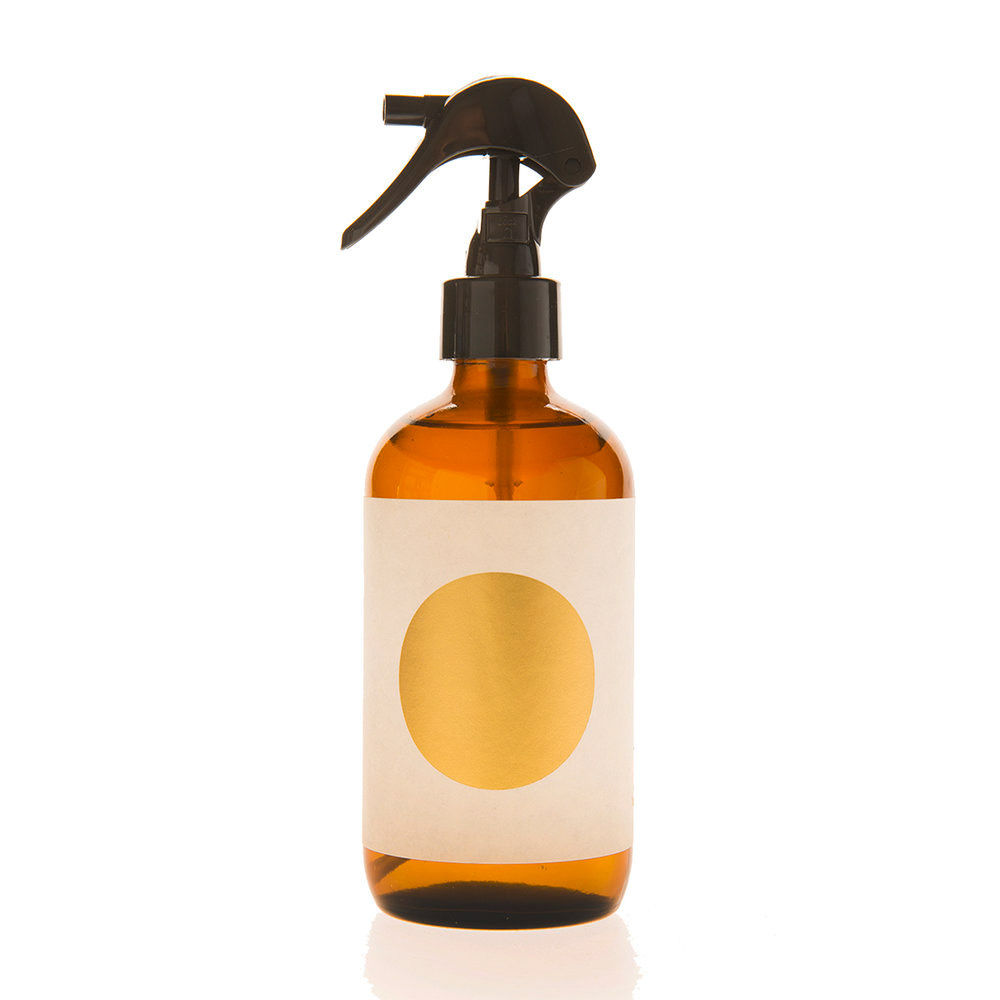 Chicago Fire Speech for Bike Tour Company
One October night in 1871, someone noticed that Catherine O'Leary's barn on the southwest side of Chicago was on fire.  Then a surreal alignment of factors lead to one of the most infamous disasters of all time:  The Fire department was extremely drained from putting out several fires the previous week.  A watchman mistakenly gave the fire department the wrong location. Chicago was in the midst of a long stretch of hot, dry, and windy weather.  Most of our buildings, roads, and sidewalks were made of cheap, local wood. And lastly, the Chicago River was so contaminated with oil and sewage that it carried the fire to the north and south sides of the city.  Three
 square miles were leveled and three hundred confirmed lives were lost.  
As devastating as the fire was, architects from around the world saw the newly available real estate of Chicago as the perfect canvas for their exciting new ideas.  William LeBaron Jenney designed the first ever steel supported frame for their Home Insurance Building.  Holabird & Roche claimed the title of world's tallest building with the 16-story Monadnock Building (keep in mind, this was a time when people still settled their differences by pistol duel.)  We were literally raising the bar for what a big city should look like. And because of this, we were chosen over New York City, Washington DC, and St. Louis to host the 1893 World's Fair.  
Chief architect Daniel Burnham and his team transformed Jackson Park into a neoclassical wonderland that blew the minds of 27 million people over the course of four months. There was way too much to see in one day.  46 countries and 34 U.S. states had their own pavilions.  The carnival rides and first-ever Ferris Wheel inspired America's first amusement park in Coney Island.  And there were full-sized reproductions of Christopher Columbus' three ships. But what made the exposition so transcendent was the soft white color of all of the buildings and how dramatically they were illuminated at night.  Our 'White City', as people started calling it, changed the way the world saw Chicago. We weren't just a gritty, industrial powerhouse of the midwest anymore; we had arrived as an international destination for arts and culture.